What winning 'Regional Best' at TWIA for 4 years running means to us
So we did it again….Winners at 'The Wedding Industry Awards North East & Yorkshire' for the fourth year in a row!
To say we are thrilled is an understatement and it's still sinking in days after the event.
Our brides took time out of their busy schedules to submit their voter scores and comments for two separate categories (hair & Makeup). Those scores pushed us through to the shortlist and from there on it was down to a panel of highly acclaimed judges to select a winner.
A heartfelt thank you goes out to every single bride that voted. We can't wait to read your comments. Feedback has always been so very important to us because we want our brides to have the best possible experience from start to finish. It's good to hear we're getting it right and, equally, it's good to hear how we can improve too.
Since first entering TWIA back in 2013 our business has grown and evolved far more than I ever could have hoped for. I genuinely believe that being able to present ourselves as 'award winners' has increased the number of enquiries and bookings we receive by tenfold, and we attract a clientele that appreciate 'the best' rather than 'the cheapest'.
My first entry and consequent double win at TWIA some four years ago was an invaluable experience. It gave me the confidence I needed but, also, the whole process made me analyse what I needed to move my business forward and grow. I've kept this momentum going year after year and it's such a good feeling to be reassured, not only by our amazing brides but, by the judging panel too (some of the very best in the country) that we're doing good.
I'm so pleased to be able to share some of the highlights from the awards event hosted by stunning venue Rockliffe Hall with these fab images by Adby Creative.
We spent much of the evening partying with our good friends Campbells Flowers whom also won 'Best Florist' and we made some lovely new friends too.  We celebrated with a few glasses of Champers and it's fair to say we were are a little tipsy.
Congratulations to all the other insanely lovely and talented winners! It was good partying with you all and we wish you the best of luck in the National Finals!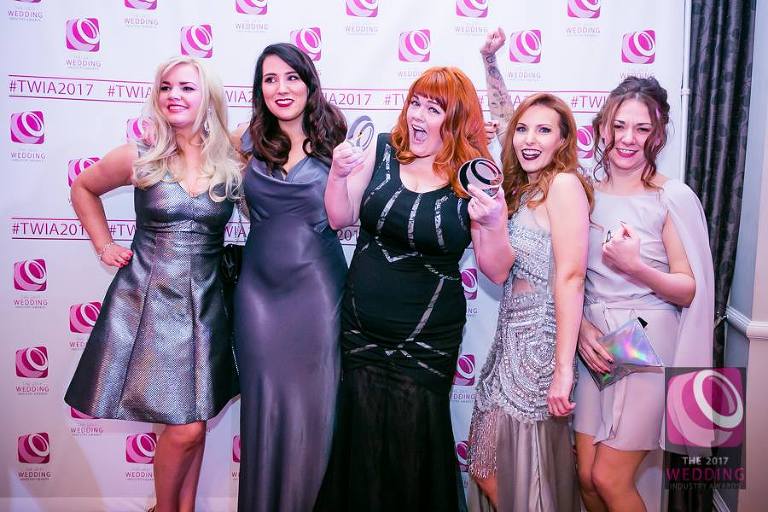 Kelly, Natty, Amy & Lauren….you ladies are the absolute best and I'm incredibly lucky to be on this journey with you guys!  I love you lots!    Jenn xxx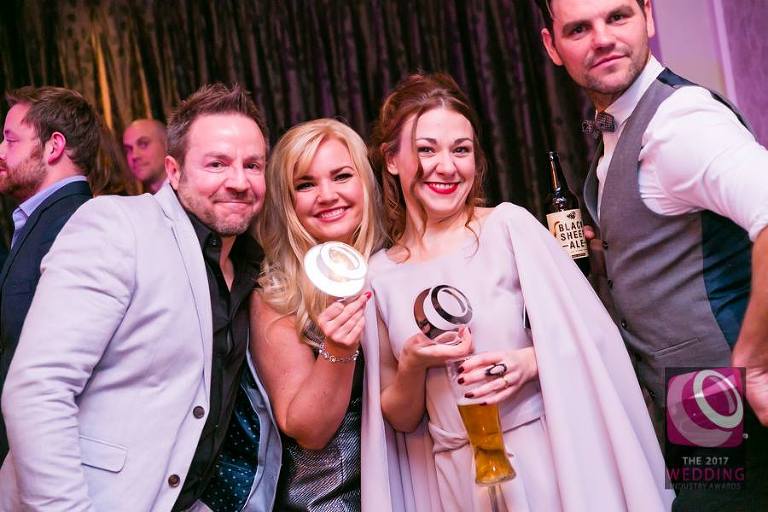 YORKSHIRE & NORTH EAST WEDDING ACCESSORY OF THE YEAR
Winner: Lou Lou Puchalka
YORKSHIRE & NORTH EAST WEDDING BAND OF THE YEAR
Winner: Groove Allstars
YORKSHIRE & NORTH EAST BRIDAL RETAILER OF THE YEAR
Winner: Mia Sposa
YORKSHIRE & NORTH EAST WEDDING CAKE DESIGNER OF THE YEAR
Winner: Cherry Blossom Cakes
YORKSHIRE & NORTH EAST WEDDING CATERER OF THE YEAR
Winner: GFS Catering
YORKSHIRE & NORTH EAST WEDDING DJ OF THE YEAR
Winner: WDC Entertainment
YORKSHIRE & NORTH EAST WEDDING DRESSMAKER/DESIGNER OF THE YEAR
Winner: Bexbrides
Highly commended: KMR Bespoke Bridal Designer
YORKSHIRE & NORTH EAST WEDDING ENTERTAINMENT OF THE YEAR
Winner: Luke Howells Magician
YORKSHIRE & NORTH EAST WEDDING EVENT TEAM OF THE YEAR
Winner: Middleton Lodge
Highly commended: Box Tree Events
YORKSHIRE & NORTH EAST WEDDING FLORIST OF THE YEAR
Winner: Campbell's Flowers
Highly commended: Sweetpea & Thyme
YORKSHIRE & NORTH EAST WEDDING HAIRSTYLIST OF THE YEAR
Winner: Jenn Edwards Artistry Team
YORKSHIRE & NORTH EAST WEDDING MAKE UP ARTIST OF THE YEAR
Winner: Jenn Edwards Artistry Team
Highly commended: Catherine Elizabeth
YORKSHIRE & NORTH EAST WEDDING MARQUEE SUPPLIER OF THE YEAR
Winner: Boutipi
YORKSHIRE & NORTH EAST WEDDING MENSWEAR SUPPLIER OF THE YEAR
Winner: Bakers Bespoke
YORKSHIRE & NORTH EAST WEDDING MUSICAL ACT OF THE YEAR
Winner: Ellie Sax
YORKSHIRE & NORTH EAST WEDDING PHOTOGRAPHER OF THE YEAR
Winner: York Place Studio
Highly commended: Andy Gaines Photography
YORKSHIRE & NORTH EAST WEDDING PLANNER OF THE YEAR
Winner: LW Events
YORKSHIRE & NORTH EAST WEDDING SPECIAL TOUCH OF THE YEAR
Winner: Wedding Venue Lighting
Highly commended: Picabo
YORKSHIRE & NORTH EAST WEDDING STATIONERY OF THE YEAR sponsored by Printed.com
Winner: Phylecia Sutherland
YORKSHIRE & NORTH EAST WEDDING TRANSPORT OF THE YEAR
Winner: Fairytale Wedding Cars
YORKSHIRE & NORTH EAST COUNTRYSIDE WEDDING VENUE OF THE YEAR
Winner: Newton Hall
Highly commended: Rockliffe Hall
YORKSHIRE & NORTH EAST TOWN/CITY WEDDING VENUE OF THE YEAR
Winner: Grays Court
YORKSHIRE & NORTH EAST WEDDING VENUE STYLIST OF THE YEAR
Winner: Wish Upon A Venue Dresser
Highly Commended: Blue Horseshoe Weddings
YORKSHIRE & NORTH EAST WEDDING VIDEOGRAPHER OF THE YEAR
Winner: Forever Film Weddings
Highly Commended: Story of Your Day
YORKSHIRE & NORTH EAST NEWCOMER OF THE YEAR
Winner: Le Petit Chateau