Wedding Planning Paragon | Claire's Peak District Wedding
Wedding Planning for your own Peak District Wedding, when you're an events planner yourself, Isn't easy!
Claire has been planning large scale events for six years, she's a perfectionist with high expectations and she knows all the pit-falls.
Claire and George carefully handpicked each of their wedding suppliers, for their own peak district wedding, using their knowledge gained  from experience working within the wedding Industry.
It was a huge honour for myself and our makeup artist Tash be a part of this wedding and I was flattered that Claire chose us.
About The Village Green Events Company
Claire runs Sheffield-based events production company, The Village Green Events Co, and has been planning events professionally since 2012.
The team delivers exceptional events including gorgeous weddings for modern couples.
Claire and her team take an individualised approach to weddings, getting to know each couple personally so they can weave their clients' unique personalities throughout the wedding planning process.
The team have created many weddings including outdoor, festival-style, weddings as well as weddings in warehouse spaces and even a wedding on a tennis-court.
Claire & George's own peak district wedding
Claire and George wanted to celebrate their uniqueness and incorporate elements of this into their wedding.
They chose Hollowgate Farm as their reception venue for it's beautiful views of Froggatt Edge, where they got engaged.
Their wedding incorporated all of their loves – their love of the outdoors, their love of Italian food, their love of music and their love of excellent cocktails (thanks to VintroBar).
Claire's stunning backless dress is by Rime Arodaky from stockists The Mews Bridal. 
Flowers were crafted by our friends Sweetpea & Thyme , including the beautiful flower crown which Claire wore.
Our friend Nathan Dainty is a well known Sheffield Photographer and just happens to be Claire's Brother-in-law.  It was great to work with Nate again on the day.
I'm in awe of what Claire managed to pull off, despite being busy planning for others.
She managed to make it a  fun packed day, not only for herself and George but also, for her guests too.
With outdoor games, fully stocked Ice buckets, and a silent disco, It was the mother of all parties!
To top it off, the styling and attention to detail is incredible.  See for yourself……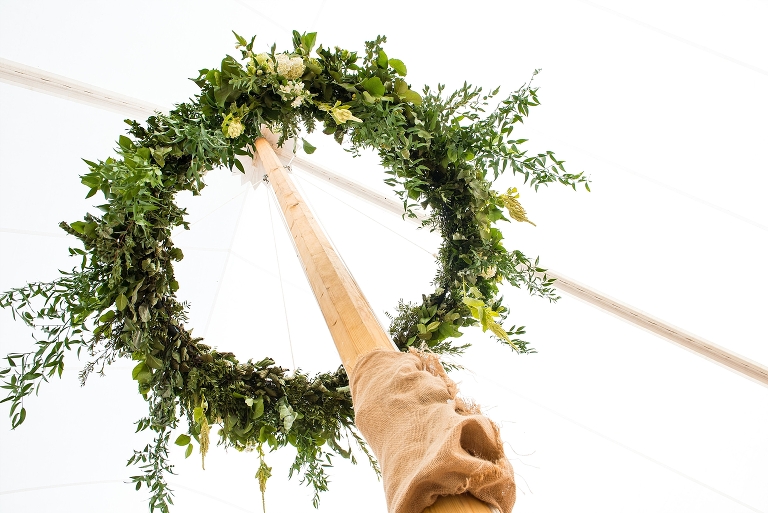 Images –
Nathan Dainty Photography
Dress – Rime Arodaky – from The Mews Bridal
Shoes – Kurt Geiger
George's suit – Ted Baker 
Marquee – Shades Canvas
Florist – Sweet Pea & Thyme 
Catering – PJ Taste
Pizza – Proove Pizza
Bar – Vintrobar
Band – Black & Gold at Earcandy
Ceremony music – Thomas Leboida and Liz Hanley
If you love a Peak District Wedding you may also love the Outdoor Ceremony of our bride Zian